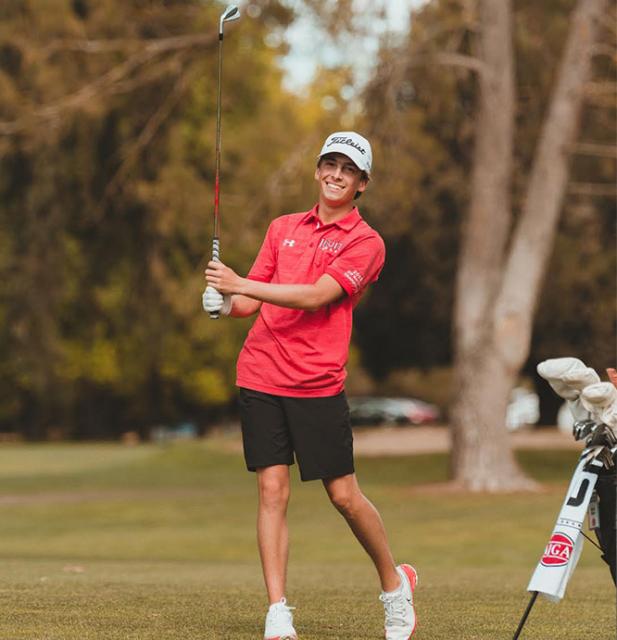 Brady Siravo got to The Olympic Club in San Francisco on Monday 40 minutes before his 7:40 a.m. tee time. A fog delay moved his start time to 8 a.m. It wasn't the only delay of a U.S. Open Final Qualifying. When his group was making the turn during the second round of a one-day, 36-hole event, they were stopped and delayed 45 minutes on account of waiting on groups ahead of them. When Siravo was finally done playing for the day, it was 7 p.m.

"It's very true of what people call the longest day in golf," said Siravo, a resident of Sacramento. He's not complaining, however, as he called playing in the U.S. Open Final Qualifying for the first time a new experience. "I was excited for it, because my game felt great. And I knew I had a shot if I played well. I think any kid or anybody kind of bites at the chance to have that opportunity to play in the U.S. Open. So, I was super excited. It was going to be a long day. "It was a great experience, a great learning experience. Hopefully, I'll give it another shot next year and be better prepared."

Siravo, a recent graduate of Jesuit High School in Carmichael, was one of six Sacramento-area players who advanced from U.S. Open Local Qualifying to Final Qualifying. There were eight other sites that hosted Final Qualifying.

There were 88 players in the field at The Olympic Club's Ocean Course, a par-71, 6,806-yard layout, going for just five spots into the 122nd U.S. Open Championship. The U.S. Golf Association event will take place at The Country Club in Brookline, Mass., June 16-19.

"Just another learning experience. It's another milestone to look at and something to build off of in just getting better," said Siravo, 18. "I just think kind of trusting myself and knowing that I belong there was the first key, knowing that I was capable of competing with them and that I wasn't out of my league. I think that being able to convince myself of that was very important. A lot of people can get extra nervous in those situations. Luckily, I was able to kind of convince myself that I belonged there. I've always experienced nerves, but I seemed to be able to control them pretty well, which is great. And going forward, it's kind of something I can build on."

The six Sacramento-area players failed to qualify. This includes Siravo, who had rounds of 72 and 73 for a 145 total.

Spencer Levin of Sacramento is the first alternate after shooting 5-under-par 137, with rounds of 70 and 67, and finishing sixth. Levin is a former PGA Tour player and the Northern California Golf Association Player of the Year in 2004. He beat Dylan Menante of Carlsbad, Calif., the second alternate (66-71 – 137), in a playoff.

Levin is a three-time winner on the PGA Tour Canada circuit. He was the low amateur and finished in a tie for 13th at the U.S. Open at Shinnecock Hills in 2004.
Also missing the cut:
Peter Lansburgh of Woodland, 69-69 – 138.
Jaden Dumdumaya of Fairfield, 76-67 – 143.
Donnie Baucom of Fair Oaks, 77-72 – 149.
Ryan Williams of Sacramento, 76-77 – 153.
Siravo, an All-Delta League player for Jesuit, was happy with his driving, approach shots and short game.
"I think I definitely played better than my score showed," he said. "I would have liked to have made more birdies and made a few more putts, but I think I drove the ball really well and kind of put myself in good spots off the tee.
"But at Olympic, there were just some holes that were tough to get to. And I kind of had to play to a lot of the fat side of greens, which ended up giving me a lot of 40 footers. I put myself in good spots off the tee, but I had to put it in the fat side of the green a lot, just because if you miss it in the wrong spot, you're going to make a big number.
"But I definitely drove the ball well and I hit my irons solid. I could have hit a few wedges a little bit closer and made a few more putts. But it was it was tough out there. The greens are hard to read. It was tough for everybody. The wind picked up a little bit.
"It's a lot of wedges if you can drive it straight. I think the greens were the toughest part for me. They had some slope and they were tough to read. The greens make it even tougher, especially in the afternoon. They start to dry up and they got firmer. The second round, it seemed it was a lot harder to hit greens than it was in the first round."
The five players advancing to the U.S. Open:
William Mouw (amateur), Chino, Calif., 67-63 – 130.
Charles Reiter (amateur), Palm Desert, Calif., 66-69 – 135.
Luke Gannon, Mahomet, Ill., 68-68 – 136.
Taylor Montgomery, Las Vegas, Nev., 67-69 – 136.
Jesse Mueller, Phoenix, Ariz., 69-67 – 136.
The USGA announced in April, in a report at www.usopen.com, that it accepted a total of 9,265 entries for the 122nd U.S. Open Championship.
Caddying for Siravo was Mason Benbrook, a 2022 Jesuit graduate, who will attend UC Santa Barbara in the fall and play golf for the Gauchos. Jesuit won the Delta League title and advanced from CIF Sac-Joaquin Section Division I and SJS Masters tournaments to reach the NCGA/CIF Regional Championships at Berkeley Country Club, located in El Cerrito.
Jesuit finished eighth at NorCals, and Siravo tied for 28th, shooting 75.
Siravo has a full tournament schedule over the summer.
He will play in a U.S. Junior Qualifying on June 13 at Yolo Fliers in Woodland and the Western Junior, June 20-23, at Naperville Country Club in Naperville, Ill.
He will also play in the 111th California Amateur Championship, June 27-July 2 at Big Canyon Country Club in Newport Beach.
Siravo, a former member of First Tee – Greater Sacramento, signed a national letter-of-intent to play college golf at Pepperdine University.
He plays out of the Haggin Oaks Golf Complex, Del Paso Country Club and Ancil Hoffman Golf Course in Carmichael.
U.S. Open Local Qualifying
Siravo and Williams advanced out of a local qualifying on May 17 at Edgewood-Tahoe Golf Course at Stateline, Nev. They each tied for third place with 71s.
Lansburgh advanced out of local qualifying, shooting a 4-under-par 68, and tying for second place on May 2 at Peach Tree Golf & Country Club in Marysville.
Levin won a local qualifying on May 2 at The Fountaingrove Club in Santa Rosa, shooting a 3-under-par 69.
Dumdumaya tied for second in a local qualifying on May 3 at The Club at Ruby Hill in Pleasanton, shooting a 1-under-71.
Baucom shot an even-par 71 and finished second in a local qualifying on May 9 at The Ridge Golf Course in Auburn.
Marty James is a freelance writer who makes his home in Napa. He retired on June 4, 2019, after spending 40 years as a sports writer, sports editor and executive sports editor for the Napa Valley Register, a daily newspaper in Napa County. He is a 1979 graduate of Sacramento State and a member of the California Golf Writers & Broadcasters Association. He was inducted into the CIF Sac-Joaquin Section Hall of Fame in 2016.
MARTY JAMES
martyjames.sports@gmail.com