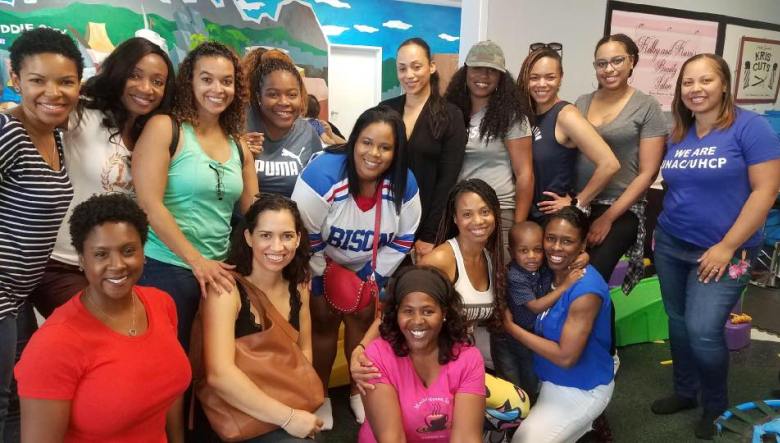 A few weeks ago, Jocelyn Jones, an LPGA apprentice professional, welcomed junior players and their families to the Haggin Oaks Golf Complex in Sacramento for a class that served as an introduction to golf and was highlighted by different games.

Organized by Mocha Moms Sacramento, a nonprofit organization, the event was hosted by Haggin Oaks in the driving range area, with instruction in full swing and putting areas. It was advertised as "Mocha Moms & LPGA Presents: Kids Putting+Chipping Class With Games!" Open to the public and for all ages, with limited space, it took place on June 12, from 10 to 11:30 a.m. "We had such a blast at Haggin Oaks Golf Course today! Thank you to everyone who came out and to Coach Jocelyn & Guadalupe (Dabos) for an awesome and fun experience that the whole family enjoyed!" Mocha Moms Sacramento announced on its Facebook page, www.facebook.com/mochamomssacramento/ Mocha Moms Sacramento, according to its Facebook page, is a "#momsgroup for #momsofcolor in the greater #Sacramento area." The organization adds: "Anyone who supports the mission and purpose of #MochaMoms is welcome to join. Visit our website to learn more and apply for membership!"

Mocha Moms Sacramento, on its Facebook page, said "@mocha_moms has partnered with @lpga_tour in an effort to expose the black community to the game of golf." Sacramento is one of the chapters that Mocha Moms, Inc., has in California.

According to its website, www.mochamoms.org:

"Mocha Moms, Inc. is the premier voice for mothers of color. Through chapters and online, Mocha Moms, Inc. provides support for women of color as they journey through all phases of motherhood while advocating for them nationally. Mocha Moms, Inc. also encourages the spirit of community activism and service among its supporters. Mocha Moms, Inc. is a 501(c)(3) tax-exempt organization. Mocha Moms, Inc. does not discriminate on the basis of race, ethnicity, sex, gender, socio-economic level, education, or religion."

Parents accompanied their children to the class at Haggin Oaks. It was not just the juniors who participated. Some of the parents did as well. "When they showed up, we were ready," said Jones. "It was a big group of us. We made it all work. It was great. We had a great time. It was near and dear to me." Golf clubs were provided for those in the class. Jones said a few of the juniors had been out to play golf before, accompanied by a parent. She said others were holding and swinging a club for the very first time. "It exposed young kids to a wonderful game," said Jones. "I was blessed to be introduced to it at a young age."

Jones works for Southwest Airlines as the area accounts manager for the Bay Area of California. But teaching golf – as an instructor at Haggin Oaks, a 36-hole facility that features the Alister MacKenzie Golf Course and Arcade Creek Course – is a big part of Jones' life. "I want to share this game. And I make sure that I tell people this, because I think it's important," she said. "I want to share this game with everyone that I can. In my opinion, it is the best game created. It teaches you life. It teaches you how to communicate. It teaches you integrity, respect, etiquette. And it brings people from different backgrounds, races, regions … whatever, together. It teaches you a lot about yourself. "While I teach the game, at the same time I teach the rules and the etiquette, too. So, I teach some of that stuff at the same time. I think it's very important."

Dabos, a sophomore on the Sacramento State women's golf team, assisted Jones with the clinic for Mocha Moms Sacramento. Dabos, who is from Tandil, Argentina, played in three tournaments for Sac State during the 2020-21 season. Dabos finished 12th at the Junior World in San Diego in 2019. Inspired by her grandfather Jones' grandfather, Bradshaw Murphy, passed on his love of golf to Jocelyn, who is from Denver and started out in the game when she was 13. "It was the one of the best things he could have ever done for my life," said Jones, a Sacramento resident. "My grandfather still to this day is an avid player."

Jones' father, Paul Lewis, does not play golf. But he was Jones' sponsor when she played the Cactus Tour after turning pro. Murphy helped out Jones when she first began playing. From there, she took private lessons, and had different swing coaches along the way. She grew up playing junior golf at Park Hill Golf Club and City Park Golf Course in Denver. "I grew up playing, in Denver, at a time when there were no other young African American girls. So not only was I the only African American, but I was the only girl out there, too," she said. "I grew to really love the game. I've always been a talker. I was never shy. But playing the game of golf really helped me learn how to network, and how to speak to adults and get into that whole realm of business, because I was playing with CEOs and doctors. I built a lot of relationships. I had a Rolodex of all my business cards that I collected from playing golf.

"I learned after the round to send them thank you letters and things like that, or follow up emails, thanking them for a great round. And that led to me playing again with them some time. It was just a great way to network, which leads me into my line of work. Now I'm in sales. So, I think the game of golf really helped me with that, because I'm able to communicate with people. I picked up the game very quickly."

Playing golf in high school and college

Jones played on the golf team at East High School in Denver. She graduated in 2001.
One of the highlights of her junior days was being invited to play in a youth golf event at The International at Castle Pines Golf Club in Castle Rock, Colorado. She played in a group with Brandt Jobe, a PGA Tour player. Jones continued with golf, playing all four years in college on the women's team at Alcorn State University, located in Lorman, Mississippi, on a full-ride golf scholarship. She was team captain for one season and graduated in 2006 with a degree in computer networking. While she was in college, Jones spent two summers, in 2003 and 2004, as an intern for the PGA Tour. "Golf has just brought me some amazing memories, just wonderful times," she said.

Jones turned pro in 2008 and played The Cactus Tour for two years. It's "The Tour for Women Golf Professionals in the Western United States!" according to its website, www.thecactustour.com. Jones went to work in the golf industry, as she taught with The First Tee of Phoenix. She worked as one of the managers at Papago Golf Club in Phoenix. She has been an instructor at Park Hill Golf Club.

"Golf is a very special game to me," said Jones. "I fell in love with teaching."

Jones has been at Haggin Oaks, working as an LPGA apprentice professional, for the last year. As an instructor, she gives lessons, focusing on all areas of the game.

According to its website, www.hagginoaks.com:

Jones is currently in the LPGA Teaching Program as an LPGA Apprentice Professional. "Jocelyn currently coaches many of our youth programs and loves to teach adult and youth beginner golfers who want to feel comfortable and play a game suited to their desires and goals."
Marty James is a freelance writer who makes his home in Napa. He retired on June 4, 2019, after spending 40 years as a sports writer, sports editor and executive sports editor for the Napa Valley Register, a daily newspaper in Napa County. He is a 1979 graduate of Sacramento State and a member of the California Golf Writers & Broadcasters Association. He was inducted into the CIF Sac-Joaquin Section Hall of Fame in 2016.
MARTY JAMES
martyjames.sports@gmail.com