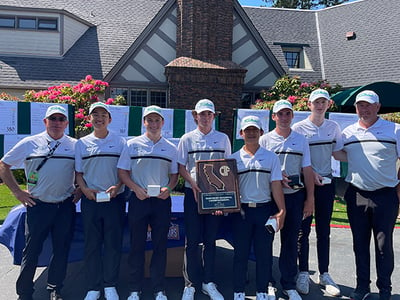 De La Salle High of Concord picked up its record sixth NorCal Boys High School Championship title, while Dougherty Valley's Jacob Ponce claimed the Individual crown.
Playing at Berkeley Country Club, De La Salle shot a team score of 3-under 357 (best-five-out-of-six) to defeat runner-up Foothill High of Pleasanton by 16 shots. Third place went to Dougherty Valley at 375.
De La Salle, Foothill and Dougherty Valley all earned automatic spots into the CIF State Boys' Championship, to be held June 1 at San Gabriel Country Club.
Leading the way for De La Salle were Jaden Dumdumaya (66), Joshua Kim (70) and Colin Ketih (73). Other scores for the Spartans were Jack Jerge, Joey Hayden and Ted Davenport (74).
Foothill was paced by Brandon Knight (72) and Chanhee Ryu (73). —Northern California Golf Association
Team Stats
| | | | | |
| --- | --- | --- | --- | --- |
| | | | | |
| 1. | De La Salle | F | -3 | 357 |
| 2. | Foothill | F | +13 | 373 |
| 3. | Dougherty Valley | F | +15 | 375 |
| T4. | Davis Sr. | F | +20 | 380 |
| T4. | Granite Bay | F | +20 | 380 |
| 6. | Crystal Springs Uplands | F | +21 | 381 |
| 7. | Stevenson | F | +24 | 384 |
| 8. | Jesuit | F | +32 | 392 |
| 9. | Lynbrook | F | +46 | 406 |
| 10. | Pleasant Valley | F | +50 | 410 |
| 11. | Oakland Tech | F | +91 | 451 |
| 12. | Lowell | F | +111 | 471 |
Individual Results
| | | | | |
| --- | --- | --- | --- | --- |
| POS | PLAYER | THRU | TOTAL | Strokes |
| 1. | Jacob Ponce Dougherty Valley | F | -7 | 65 |
| T2. | Zachary Mate Consumnes Oak | F | -6 | 66 |
| T2. | Jaden Dumdumaya De La Salle | F | -6 | 66 |
| 4. | Ryan Firpo Davis Sr. | F | -4 | 68 |
| T5. | Austin Wang Athenian | F | -3 | 69 |
| T5. | William Walsh Junipero Serra | F | -3 | 69 |
| T5. | Edan Cui Crystal Springs Uplands | F | -3 | 69 |
| T8. | Seth Saffell Castro Valley | F | -2 | 70 |
| T8. | Joshua Kim De La Salle | F | -2 | 70 |
| T10. | Ethan Lien Monta Vista | F | -1 | 71 |
| T10. | Sam Lyons Granite Bay | F | -1 | 71 |
| T12. | Ryan Calcagno Rio Americano | F | E | 72 |
| T12. | Brandon Knight Foothill | F | E | 72 |
| T12. | Luke Brandler Stevenson | F | E | 72 |
| T15. | Jake Aberle Lodi | F | +1 | 72 |
| T15. | Ben Ragland California | F | +1 | 73 |
| T15. | Chanhee Ryu Foothill | F | +1 | 73 |
| T15. | Curtis DaSilva Stevenson | F | +1 | 73 |
| T15. | Colin Keith De La Salle | F | +1 | 73 |
| T15. | KC Mungali Crystal Springs Uplands | F | +1 | 73 |
| T21. | Sean Kwok Foothill | F | +2 | 74 |
| T21. | Josh Leiker Rocklin | F | +2 | 74 |
| T21. | Trevor Moquin Junipero Serra | F | +2 | 74 |
| T21. | Ted Davenport De La Salle | F | +2 | 74 |
| T21. | Joey Hayden De La Salle | F | +2 | 74 |
| T21. | Jack Jerge De La Salle | F | +2 | 74 |
| T21. | Avinash Iyer Dougherty Valley | F | +2 | 74 |
| T28. | Calvin Kong Monta Vista | F | +3 | 75 |
| T28. | Andre Zhang Davis Sr. | F | +3 | 75 |
| T28. | Brady Siravo Jesuit | F | +3 | 75 |
| T28. | Benjamin Wang Dougherty Valley | F | +3 | 75 |
| T28. | Karson Kindelt Granite Bay | F | +3 | 75 |
| T28. | Anton Ouyang Lynbrook | F | +3 | 75 |
| T28. | Garrett Harrison Granite Bay | F | +3 | 75 |
| T35. | Matthew Almajano Mission San Jose | F | +4 | 76 |
| T35. | Paolo Castaneda Foothill | F | +4 | 76 |
| T37. | Jonathan Sze Stevenson | F | +5 | 77 |
| T37. | Henry Chen Crystal Springs Uplands | F | +5 | 77 |
| T37. | Landon Williams Pleasant Valley | F | +5 | 77 |
| T37. | Logan Green Davis Sr. | F | +5 | 77 |
| T41. | Ben Harbourne Foothill | F | +6 | 78 |
| T41. | Matthew Miyamoto Jesuit | F | +6 | 78 |
| T41. | Ray Zhang Dougherty Valley | F | +6 | 78 |
| T41. | Adithya Venkataraghavan Lynbrook | F | +6 | 78 |
| T45. | Mason Benbrook Jesuit | F | +7 | 79 |
| T45. | Tyler Williams Granite Bay | F | +7 | 79 |
| T45. | Jonathan Takeda Lowell | F | +7 | 79 |
| T48. | Brennan Mullen University Prep | F | +8 | 80 |
| T48. | Steven Lai Stevenson | F | +8 | 80 |
| T48. | Josh Galindo Davis Sr. | F | +8 | 80 |
| T48. | Philip Hu Crystal Springs Uplands | F | +8 | 80 |
| T48. | Sohom Patel Granite Bay | F | +8 | 80 |
| T48. | Aneil Sandhu Pleasant Valley | F | +8 | 80 |
| T48. | Blake Schimmel Davis Sr. | F | +8 | 80 |
| T55. | Brandon Yeh Foothill | F | +9 | 81 |
| T55. | Joran Weldon Oakland Tech | F | +9 | 81 |
| T55. | Ezra Brower Oakland Tech | F | +9 | 81 |
| T55. | Andrew Ma Pleasant Valley | F | +9 | 81 |
| T59. | Luca Cimoroni Stevenson | F | +10 | 82 |
| T59. | Jack Kessler Skyline | F | +10 | 82 |
| T59. | Edgar David Jesuit | F | +10 | 82 |
| T59. | Griffin Chiu Crystal Springs Uplands | F | +10 | 82 |
| T59. | Steven Pan Lynbrook | F | +10 | 82 |
| T64. | JW Keating Jesuit | F | +11 | 83 |
| T64. | Matt Sayer Chico | F | +11 | 83 |
| T64. | Asher Kramer Oakland Tech | F | +11 | 83 |
| T64. | Ryan Ruy Dougherty Valley | F | +11 | 83 |
| T64. | Jakob Green Davis Sr. | F | +11 | 83 |
| T69. | Cole Leon Stevenson | F | +12 | 84 |
| T69. | Kiefer Zelenski Pleasant Valley | F | +12 | 84 |
| T69. | Ernest Scherer Dougherty Valley | F | +12 | 84 |
| T72. | Russell Chiu Crystal Springs Uplands | F | +13 | 85 |
| T72. | Nishad Wajge Lynbrook | F | +13 | 85 |
| T74. | Evan Faulkner Foothill | F | +14 | 86 |
| T74. | James Gerali Lynbrook | F | +14 | 86 |
| 76. | Ryan Atkinson Granite Bay | F | +15 | 87 |
| T77. | Jordan Boles Pleasant Valley | F | +16 | 88 |
| T77. | Aaditya Mahajan Lynbrook | F | +16 | 88 |
| 79. | Daniel Skeete Foothill | F | +17 | 89 |
| T80. | Manny Sarabin Lincoln | F | +20 | 92 |
| T80. | Carter Lew Oakland Tech | F | +20 | 92 |
| T82. | Nate Borello Pleasant Valley | F | +21 | 93 |
| T82. | David Jung Lowell | F | +21 | 93 |
| 84. | Matthew Manalo Lowell | F | +24 | 96 |
| 85. | Joshua Naah Lowell | F | +28 | 100 |
| 86. | Brayden Lee Lowell | F | +31 | 103 |
| 87. | Kaidren Clark Lowell | F | +33 | 105 |
| 88. | Solomon Watkins Oakland Tech | F | +42 | 114 |
| 89 | Jaden Delaney Oakland Tech | F | +68 | 140 |
| | Did Not Finish | | | |
| DQ | Luke Dariotis Jesuit | +6 | | |